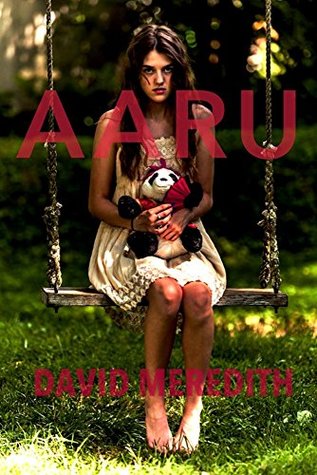 Aaru by David Meredith
Publication Date: July 9th, 2017
Page Number: 305 pages
Format Read: E-book/PDF (Review Copy)
---
Goodreads synopsis:
Rose is dying. Her body is wasted and skeletal. She is too sick and weak to move. Every day is an agony and her only hope is that death will find her swiftly before the pain grows too great to bear. 

She is sixteen years old. 

Rose has made peace with her fate, but her younger sister, Koren, certainly has not. Though all hope appears lost Koren convinces Rose to make one final attempt at saving her life after a mysterious man in a white lab coat approaches their family about an unorthodox and experimental procedure. A copy of Rose's radiant mind is uploaded to a massive super computer called Aaru – a virtual paradise where the great and the righteous might live forever in an arcadian world free from pain, illness, and death. Elysian Industries is set to begin offering the service to those who can afford it and hires Koren to be their spokes-model. 

Within a matter of weeks, the sisters' faces are nationally ubiquitous, but they soon discover that neither celebrity nor immortality is as utopian as they think. Not everyone is pleased with the idea of life everlasting for sale. 
What unfolds is a whirlwind of controversy, sabotage, obsession, and danger. Rose and Koren must struggle to find meaning in their chaotic new lives and at the same time hold true to each other as Aaru challenges all they ever knew about life, love, and death and everything they thought they really believed. 
My Thoughts:
I really liked how interesting the concept of the aaru system was. This could easily be imagined as a reality for us in the future and I liked how there were characters who opposed the system so we saw both sides.
The main antagonist in the book was so creepy and his point of view was also so frustrating because we could never warn the main characters what was about to happen.
I couldn't believe how well Koren dealt with everyone that happened to her at only 13! I'm older than her and would have a mental breakdown from just half of the things she went through.
Rose and Koren were such great main characters and I loved each of their chapters. Their parents I felt were a little distant and not as much in the book except for one or two scenes.
When I finished the book I wondered whether if I had the chance to be a part of aaru if I would take it. I think maybe not? Like yes of course it's amazing that it saves young children who died from sickness or murder but to live forever in basically paradise? I feel like I would get bored.
Rose seemed to like it though so maybe it's just me.
Verdict:
An interesting story and concept; the Aaru system has many moral and religious objections/ questions that are handled nicely throughout the book. I loved following Koren and Rose throughout the book.
My Rating:
4 out of 5 stars
---
Have you read this book? Would you want to live forever? Let's discuss!