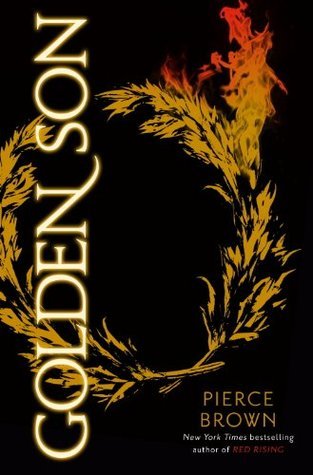 Golden Son by Pierce Brown
Publication Date: January 6th, 2015
Publisher: Del Rey
Page Number: 464
Format Read: E-book (Live-brary Borrowed)
---
Goodreads Synopsis: 
With shades of The Hunger Games, Ender's Game, and Game of Thrones, debut author Pierce Brown's genre-defying epic Red Rising hit the ground running and wasted no time becoming a sensation.

Golden Son continues the stunning saga of Darrow, a rebel forged by tragedy, battling to lead his oppressed people to freedom from the overlords of a brutal elitist future built on lies. Now fully embedded among the Gold ruling class, Darrow continues his work to bring down Society from within.

A life-or-death tale of vengeance with an unforgettable hero at its heart, Golden Son guarantees Pierce Brown's continuing status as one of fiction's most exciting new voices.
My Thoughts: 
This is actually a re-read in anticipation for Morning Star, the last book in the trilogy. But I figured since I had a Red Rising review, which you can click here to see, and since I will have a Morning Star review up too, that I should just review this re read anyway.
Pierce Brown continues to amaze me and be the master of plot twists. Honestly, I've also learned that I cannot trust anything that happens because it's never true. Like Darrow always has some kind of plan and don't cry because he's going to fix it somehow.
But seriously, that ending though was a brutal cliffhanger. I remember reading it a year ago and just dying, but since I knew what was coming, this time around it was a little more bearable.
One thing that I love about this trilogy is how much romance and love there is, like there's a lot of shipping going on, but at the same time, there's like zero romance too. I can honestly count on one hand the amount of times that Darrow and Mustang have kissed. And if you guys know me, I'm a major shipper, I ship a lot. Do I ship Darrow and Mustang? YES! But I can't focus on that when reading because there are waaaaay too many other things going on. If that made sense…probably not to be honest.
My favorite characters so far have got to be Darrow, Mustang and Sevro obviously, though Victra is growing on me.
Also, what is this book classified as? Is is YA? Or Adult? Cause it's a very violent trilogy…
Verdict:
Pierce Brown does it again and makes me love this trilogy even more! Amazing book full of twists that will have you throwing your book across the room.
My Rating: 
5 stars out of 5 stars!
---
Have you read this book!? What did you think!?