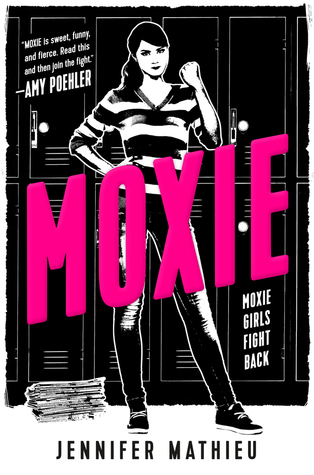 Moxie by Jennifer Mathieu
Publisher: Roaring Book Press
Publication Date: September 19th, 2017
Page Number: 330 pages
Format Read: E-book (Live-brary Borrowed)
---
Goodreads Synopsis:
Moxie girls fight back!

Vivian Carter is fed up. Fed up with her small-town Texas high school that thinks the football team can do no wrong. Fed up with sexist dress codes and hallway harassment. But most of all, Viv Carter is fed up with always following the rules.

Viv's mom was a punk rock Riot Grrrl in the '90s, so now Viv takes a page from her mother's past and creates a feminist zine that she distributes anonymously to her classmates. She's just blowing off steam, but other girls respond. Pretty soon Viv is forging friendships with other young women across the divides of cliques and popularity rankings, and she realizes that what she has started is nothing short of a girl revolution.
My Thoughts:
Oh my god I loved this book!
I first saw Moxie mentioned in the Zoella book club video and thought that the synopsis sounded nice. I later saw Moxie again in my list of books to choose from for teenreads.com and I thought it was a sign for me to place a hold on live-brary.
I am so glad I decided to give this book a read because it was everything this high school feminist wanted to read. I had no idea what was going to happen and every time you thought that Mathieu was going down a typical YA high school plot she turned around and surprised you.
I related hardcore to Lucy and how indigent she was when sexist events would happen at school and everyone just accepted it as how it was in Texas. If anything like what happened at East Rockport High School happened at MY high school, you can bet 100% none of the girls in my school would let the boys or administrators get away with it. I'm blessed that my town is pretty progressive.
Side note: When my school first started back in September actually, an administrator apparently made a remark at a back to school assembly that girls have to dress more conservatory because if you get sexually harassed it's hard to defend you to the boys parents.

…well the sophomore girls who this happened to blew up, started a petition for an apology and they had a whole new assembly where apologizes were made. I genuinely do not think that the administrator at my school meant for her words to come out that way, and I do think that she loves all of us students, but she just has to be careful what she says because girls are no longer staying silent and we're speaking up now.
So anyway, given what happened at my school, the events that happened in this book that were FAR worse definitely made my blood boil. Honestly, how some of the girls managed to NOT punch anyone in the face is beyond me.
FEMINISM! I loved it so much! The dialogue between Vivian and Claudia about Claudia wanting to be an equalist and then later seeing why feminism is so important was amazing!
SETH! Like what?! How in the world did such an amazing boy end up at that school full of jerks minus the boys he sits with at lunch! And the fact that Vivian and Seth had actual fights about meaningful things and it wasn't all rainbows and sunshine!
GIRLS SUPPORTING GIRLS! Emma! I knew it! The bonds these girls formed over Moxie was amazing and I loved seeing how Vivian and Lucy wanted to help the girls soccer team get new uniforms because they win more than football. (In my school actually, the soccer players, boys and girls are the popular ones who win games while football players generally do not win that much, soz football players but I'm right).
FEMINISTS AND DIFFERENT RACES! Mathieu was so clever that woman. We finally see non white feminists and white feminists who acknowledge that this fight is an EVERY girl fight. I understand that this is a conservative town but it would have been nice to see more LGBTQ rep, but it was fine honestly.
We NEED more books written like this! GIRL POWER!
My next feminist read is going to be WE SHOULD ALL BE FEMINISTS by Chimamanda Ngozi Adichie. Actually, Adichie has been everywhere for me, I listened to her danger of a single story TED talk and we talked about it last year in my TOK class, this year in my English class, and now I'm going to be using it in my IB extended essay. I was also recommended to read PURPLE HIBISCUS, so I'm going to request that one at the library as well!
Verdict:
I LOVED IT! I flew through this book and loved all of the emotions I experienced, from outraged to annoyed to making heart eyes at Seth and Vivian, I loved it!
My Rating:
5 stars
---
Have YOU read this book? Let's chat!