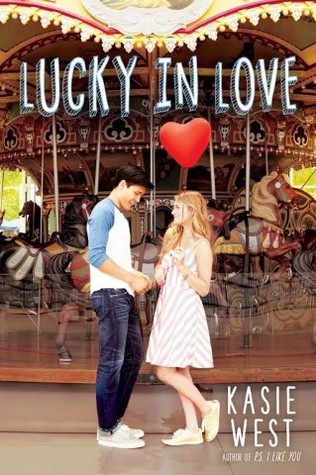 Lucky in Love by Kasie West
Publisher: Scholastic
Publication Date: July 25th, 2017
Page Number: 333 pages
Format Read: E-book (Live-brary download)
---
Goodreads Synopsis:
Can't buy me love…

Maddie's not impulsive. She's all about hard work and planning ahead. But one night, on a whim, she buys a lottery ticket. And then, to her astonishment—

She wins!

In a flash, Maddie's life is unrecognizable. No more stressing about college scholarships. Suddenly, she's talking about renting a yacht. And being in the spotlight at school is fun…until rumors start flying, and random people ask her for loans. Now Maddie isn't sure who she can trust.

Except for Seth Nguyen, her funny, charming coworker at the local zoo. Seth doesn't seem aware of Maddie's big news. And, for some reason, she doesn't want to tell him. But what will happen if he learns her secret?
My Thoughts:
The little things in this book that irked me eventually added up and I couldn't stand the cliches, inaccurate portrayal of teenage life and a main character that I thought was a complete idiot, though her GPA of 4.2 would contradict me.
I read this book in one day, from 8 in the morning to 8 in the afternoon with obvious breaks and doing my daily summer stuff. I actually kept track of the things I didn't like through texts with my best friend. When things bothered me, I texted my friend to vent so that's how I know what to talk about actually.
Things I liked: 
Seth! Asian love interest and Asian stereotypes addressed! Also Seth was the best character in general, he was so sweet, even when Maddie was so mean to him.
The cover! The cover is so cute, like most of Kasie West's books actually.
Fast pace and enjoyability! Some parts of the books were really interesting and kept me reading and I can't deny that I did like the main plot, (not subplots though).
Things I didn't like:
So Maddie is supposedly number two in her class with a 4.2 GPA and all of these extracurricular and volunteer hours and yet not once throughout the book does she go to any club at school or stay after. Maddie has to be usual YA teen that finishes school and never has any trouble with school or studying.
She's also in HONORS ENGLISH, with a 4.2 GPA. I'm not saying anything bad about people in Honors English, really, but to be number 2 in your grade you need to be in AP or IB classes. (Unless California doesn't do AP)?
Also I get it, Maddie's parents are chill parents but when Maddie told them she was throwing a party, they said it was about time she did normal teenage things. At other times her mom told her she needed to keep studying for college. It's very contradictory, either her parents want her to study and be a goody goody or do "normal" teenage things like partying.
I also saw Maddie's C on that pop quiz coming from miles away. Obviously once the really smart girl gets rich she stops caring about school and studying. And when Maddie was talking on the phone to Seth about how smart she was and her studying all the time, it didn't feel like it was genuine because Maddie did not study in the book for as much time or enough times to feel like she actually even went to school.
And then when people started taking advantage of Maddie she didn't even notice. She hired a band before hearing them play and took their word that they made a thousand dollars per gig. Obviously…they sucked.
Maddie's parents said it was her money and to get a financial advisor, but Maddie of course doesn't do this until the END of the book AFTER all of the bad things happen that come with winning that much money from the lottery.
Verdict: 
I don't know why but this book clearly triggered me for some reason. Can anyone play therapist and analyze why I was so triggered haha
My Rating:
2.5 stars
---
And that is all! Have you read this book? Did you like it? Let's chat!