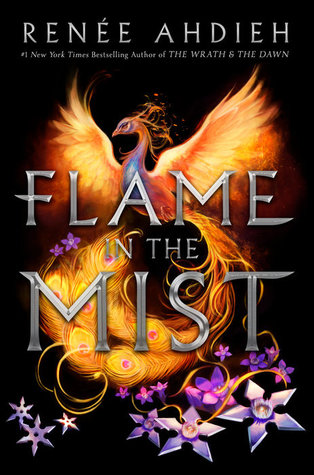 Flame in the Mist by Renee Ahdieh
Publisher: G.P. Putnam's Sons Books for Young Readers
Page Number: 393 pages
Publication Date: May 16th, 2017
Format Read: E-book (Live-brary)
---
Goodreads Synopsis:
The only daughter of a prominent samurai, Mariko has always known she'd been raised for one purpose and one purpose only: to marry. Never mind her cunning, which rivals that of her twin brother, Kenshin, or her skills as an accomplished alchemist. Since Mariko was not born a boy, her fate was sealed the moment she drew her first breath.

So, at just seventeen years old, Mariko is sent to the imperial palace to meet her betrothed, a man she did not choose, for the very first time. But the journey is cut short when Mariko's convoy is viciously attacked by the Black Clan, a dangerous group of bandits who've been hired to kill Mariko before she reaches the palace.

The lone survivor, Mariko narrowly escapes to the woods, where she plots her revenge. Dressed as a peasant boy, she sets out to infiltrate the Black Clan and hunt down those responsible for the target on her back. Once she's within their ranks, though, Mariko finds for the first time she's appreciated for her intellect and abilities. She even finds herself falling in love—a love that will force her to question everything she's ever known about her family, her purpose, and her deepest desires.
My Thoughts:
I really loved this book! Renee Ahdieh is such a beautiful writer and her books have such unique characters.
I like to think of this book as Mulan meets Girl of Fire and Thorns, (By Rae Carson).
The cover is eye catching and gorgeous and Mariko was such a strong character to follow throughout the book.
I also loved the romance! At first I thought Mariko would have romance with one character but it ended up being the other and I was totally fine with that!
Some of the backstory with the shogun and Japanese culture was unfamiliar to me and confusing to understand but I loved reading about it because that's what books are for! To educate on topics you might not otherwise read about or know.
The main antagonists of the story I feel are the typical antagonists expected of an emperor/divided family type story, so I'm interested in seeing if the next book proves me wrong.
I loved the feminist aspect with Mariko and Yumi and how Mariko didn't let her gender define her limitations. I also loved how some of the important men or boys (man boys?) in the book didn't let gender shape their image of Mariko either.
There was sort of a plot twist at the end that I'm unsure about and it's weird how it seems like a realistic fiction type story set in the past but really it has magic. I'm a little worried about reading the next book because with the Wrath and the Dawn duology, I loved the first book but didn't like the second one as much, so once again I'm looking forward to be proven wrong!
My Rating:
5 stars
Verdict:
I felt so many emotions and there were so many gasp worthy scenes followed by awww moments! I'm looking forward to reading the next one!
---
Have you read this book? What did you think? Let's chat!