Wow time flies doesn't it? I'm happy to say that I've had a good reading month and I've read 10 books, bringing my total for the year up to 113 which is significantly less than what I read last year but that's okay!
First up I finished the Crucible for school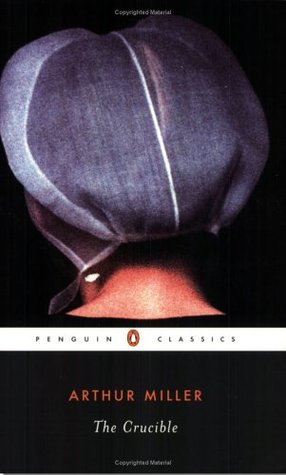 I really enjoyed reading this and gave it 4 stars on Goodreads. One thing I did notice was the the author, Arthur Miller, seems to have had some lady problems, because the women in this book were portrayed horribly and I didn't like that at all. Like Elizabeth was the one apologizing for what John Proctor did. Like no, your husband sinned, it's not your fault at all. The line where Elizabeth said 'it takes a cold wife to prompt lechery', or something like that, I wanted to throttle something. That's no excuse for any man to commit adultery! Ugh!
I also finished the Penryn and the End of Days trilogy with the last book End of Days
I liked this trilogy a lot, and gave it 4 stars. I think that for me, this book, and the other ones too, were missing that zap of emotion that I usually feel when a book gets a 5 star rating from me. Like the plot and writing were both great, but it was missing that extra something that I can't quite explain, you know?
I also read After You and A Gathering of Shadows!
After you is the Me Before You sequel and I thought that the first half was really long and boring but then it picked up reallly fast after that and then it didn't really matter to me how boring it was before because it got so good. I know there's a lot of hate going around on this book, but I honestly didn't have a problem with it.
A Gathering of Shadows is the second book in the Darker Shade of Magic trilogy! I really liked this book! This whole trilogy is so deliciously enticing! I did get a bit annoyed with the ending because come on…this villain just keeps coming back and it's so annoying!
I was also sent this book Griffen and it's prequel to review on my blog
I gave the prelude novella and the book Griffen both 3 stars on Goodreads. I liked the interesting plot and if you want to check out the review I did, you can click here
I read two books I've been meaning to read for a while now, The Crown's Game and Carry On by Rainbow Rowell, the fanfiction from the amazing book Fangirl!
I gave both of these books 4 stars on Goodreads. For me the Crown's Game was very interesting because I'm russian so obviously this YA fantasy novel set in Russia would be interesting for me to read. I liked the book a lot except I couldn't connect to the characters as much as I would have liked. I also felt that the antagonist in the book was brought into the book just cause an antagonist was needed.
I loved Carry On in the beginning! Simon Snow is such a great character and him and Baz were like my OTP. And then towards the end things got weird and I didn't like it. I wanted more Simon and Baz and I did not get enough!
And finally I read Trials of Apollo: The Hidden Oracle and Crystal Crowned
Okay here's the thing about Rick Riordan. I love him and his writing. Except I feel that's it's overused and stale now. Like how many books can he write with the same plot and characters basically? So while I liked The Hidden Oracle, it's the same as his other books! I don't even know if I'm going to be continuing this series. Same thing with Magnus Chase, I read the first one, rolled my eyes and haven't read the next one. To be honest, I'll probably end up reading them anyway because I've read every book by Rick. I gave it 3 stars on goodreads because I liked it despite the staleness. I don't know, I just really feel like Rick could have done something different with this plot of Apollo being human.
Crystal Crowned was great! Vhalla Yarl and Aldrik Solaris have quickly become two of my favorite characters this year and I was happy to see their ending. I did feel it wasn't a complete resolution at the end of the book and I wanted to see some things more developed but oh well. I really liked this series! Another 4 stars series, and this book got 4 stars individually from me on Goodreads.
---
And that is all! I think this wrap up was so lengthy because I didn't review any of these books except the one sent to me so I had a lot to say.
Have you read any of these books? Let me know your thoughts!
Also link me up to your wrap ups and I'll check them out!
Thanks for reading ❤