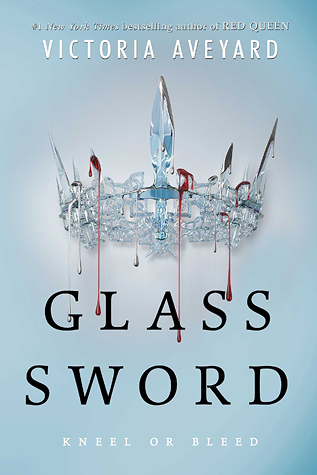 Glass Sword by Victoria Aveyard, Red Queen #2
Publication Date: February 9th, 2016
Publisher: Harper Teen
Page Number: 444 pages
Format Read: Hardcover (Bought)
---
Goodreads Synopsis:
If there's one thing Mare Barrow knows, it's that she's different.

Mare Barrow's blood is red—the color of common folk—but her Silver ability, the power to control lightning, has turned her into a weapon that the royal court tries to control.

The crown calls her an impossibility, a fake, but as she makes her escape from Maven, the prince—the friend—who betrayed her, Mare uncovers something startling: she is not the only one of her kind.

Pursued by Maven, now a vindictive king, Mare sets out to find and recruit other Red-and-Silver fighters to join in the struggle against her oppressors.

But Mare finds herself on a deadly path, at risk of becoming exactly the kind of monster she is trying to defeat.

Will she shatter under the weight of the lives that are the cost of rebellion? Or have treachery and betrayal hardened her forever?

The electrifying next installment in the Red Queen series escalates the struggle between the growing rebel army and the blood-segregated world they've always known—and pits Mare against the darkness that has grown in her soul.
My Thoughts:
I know there's a lot of hate on this series, but for me, I have no problem with it.
Sure in Red Queen the book had a lot of familiarity from the hunger games and so on, and yeah its originality isn't exactly on point, Kilorn reminded me a lot of Gale in this book actually.
For me, Glass Sword was a bit worse than Red Queen. I've been reading so many books lately about having superpowers and the ones with powers having a division from the normals. (Like the Young Elites, I'm reading the Rose Society now and there are a lot of parallels.)
Like the evil queen controlling her son and the main character fearing herself becoming evil and trying not to fall for the prince and driving him away.
Sorry, I keep comparing this book to the Rose Society for some reason, though they're totally different in terms of main characters, Adelina being awesomely twisted.
The ending though was very typical of YA/ NA fantasy writers these days, like Sarah J. Maas ahem, seems like Aveyard took a hint from her.
Mare's obsession with Maven and the boy he "used to be" was just so frustrating. I just wanted someone to stab him. Also I really ship Cal and Mare, if only Mare would stop being such a butt about it!
I really enjoyed this book, and after having a shaky start with it, and once I got into it, it was full steam ahead and I quickly flew through it.
I am indeed excited for the next book, and I'm honestly curious to see what Victoria Aveyard does with this series.  Also these covers are gorgeous!
Verdict: 
Slightly familiar to other works but still fast paced and extremely entertaining!
My Rating:
4 stars
---
Have you read this book? What did you think?