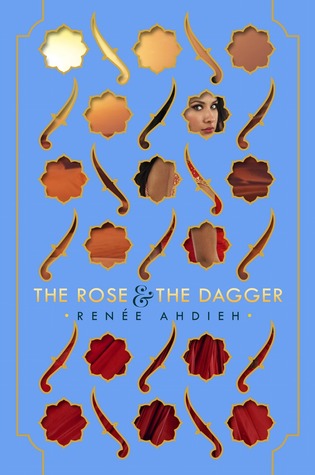 The Rose and the Dagger by Renee Ahdieh
Publisher: G.P. Putnam's Sons Books for Young Readers
Publication Date: April 26th, 2016
Page Number: 416
Format Read: Hardcover (Bought)
My Review for the first book, the Wrath and the Dawn: You can click here
---
Goodreads Synopsis:
The darker the sky, the brighter the stars.

In a land on the brink of war, Shahrzad is forced from the arms of her beloved husband, the Caliph of Khorasan. She once thought Khalid a monster—a merciless killer of wives, responsible for immeasurable heartache and pain—but as she unraveled his secrets, she found instead an extraordinary man and a love she could not deny. Still, a curse threatens to keep Shazi and Khalid apart forever.

Now she's reunited with her family, who have found refuge in the desert, where a deadly force is gathering against Khalid—a force set on destroying his empire and commanded by Shazi's spurned childhood sweetheart. Trapped between loyalties to those she loves, the only thing Shazi can do is act. Using the burgeoning magic within her as a guide, she strikes out on her own to end both this terrible curse and the brewing war once and for all. But to do it, she must evade enemies of her own to stay alive.

The saga that began with The Wrath and the Dawn takes its final turn as Shahrzad risks everything to find her way back to her one true love again.
My Thoughts:
This book was significantly less amazing than the first one, the Wrath and the Dawn. I don't know, it was just boring! Like the characters and the love triangle just annoyed me for some reason.
I did love that in this book we got to see the magic developed more and the magic carpet put to use, but I felt like the plot was lacking with the magic part of it.
My favorite part of the book had to be anything with Isra. She was definitely my favorite character and when she yelled at Khalid I was like go girl!
Little spoilery section
The only real emotion that I felt while reading was when Despina revealed her secret, I had a little gasp moment and then I was like ohhh that makes so much sense.
And then I felt so bad for Isra when the guy she loved died. I had tears in my eyes when that happened at the end. (I don't want to spoil anyone with his name)
And then at the end when Shazi was like oh I love my father for sacrificing his life for my husband, dude! He wouldn't have had to do that if he hadn't killed your husband in the first place!
Verdict: 
Compared to the first book the Wrath and the Dawn, the Rose and the Dagger left me underwhelmed and not exactly satisfied. Despite this, the writing and Shazi's sister were pretty great.
My Rating:
3.5 out of 5 stars
---
Have you read this book? What did you think?