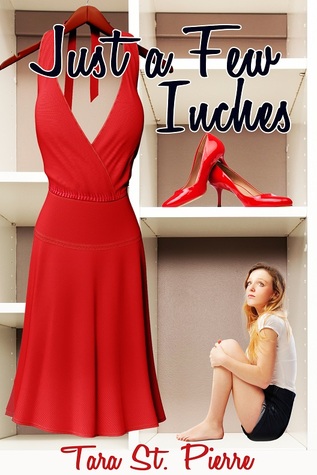 Just a Few Inches by Tara St. Pierre
Publication Date: May 31st, 2016
Publisher: Createspace
Page Number: 306
Format Read: E-book (Review Copy)
*I received a free copy of this book from the author in exchange for an honest review
---
Goodreads Synopsis:
All Carrie Roberts wants is to be a little bit smaller.

To fit into the perfect dress for the Valentine's Day Dance. To look beautiful for her boyfriend, the school's star basketball player. To keep his jealous ex-girlfriend, a rival cheerleader, away from him. And to be noticed by her classmates.

Exercising and dieting don't work, but an advertisement for weight loss pills promises a quicker solution to her problem. As time runs out, she takes more than the recommended dose until she's just a few inches slimmer. Heads turn when she arrives at the dance, and the wonderful night with her boyfriend is beyond what she dreamed it would be.

Days later, Carrie discovers that her body is changing in ways that should be impossible. While her doctor searches for a cure, she desperately turns to her friends and family for support. Everyone is noticing her now whether she likes it or not, and even the media is intrigued by her incredible story. Getting everything she once wanted has created new problems—problems that are growing more terrifying every day.

Because Carrie Roberts is shrinking.
My Thoughts: 
I actually saw a review on this book from Ari at her blog the Daydreaming Bookworm and I had nothing to read then so I got it from live-brary. I think I made it about a few chapters in, and then never really finished it and it expired on me.
So when I was given the chance to read it again, I was wary. Turns out I had nothing to be wary of! The beginning of the book was hiding an amazing story actually.
I really loved how this book dealt with teenage issues about body image. As a teenager myself who sees the social media stars with their slim bodies, it sends a mixed message to the girls following these stars.
There are so many books that try to approach this topic of body image and fail; unlike Just a Few Inches which very much succeeded.
I obviously picked up on the whole Evan plotline and where that was going, and Janelle was the typical antagonist in the story, but that was okay.
Another thing I loved was how Carrie dealt with her shrinking, she reacted in a way that I probably wouldn't have been able to; and Evan was just so understanding and supportive and I loved that about him.
It was also great how at the end when Carrie was "average" height and weight, she refused to call herself that, rather using the word "incredible".
Carrie's friends were also so amazing and supportive! I did find it funny that her prom dress was made out of doll clothes though that's actually a very practical solution.
I enjoyed the relationship Carrie had with her family and how the relationship Carrie had with her sisters grew.
The ending felt kind of rushed, and I don't really know what I would have preferred, but I feel like it was just ended kind of fast.
Verdict:
Just a Few Inches sends a wonderful message about self esteem and body image in a quirky and entertaining way!
My Rating:
4.5 stars
---
Have you read this book? What did you think? Are you going to be picking it up any time soon?