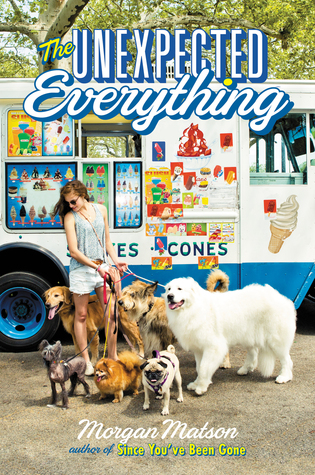 The Unexpected Everything by Morgan Matson
Publication Date: May 3rd, 2016
Publisher: Simon and Schuster
Page Number: 528
Format Read: E-book (Live-brary Borrowed)
---
Goodreads Synopsis:
From Morgan Matson, the bestselling author of Since You've Been Gone comes a feel-good story of friendship, finding yourself, and all the joys in life that happen while you're busy making other plans.

Andie has a plan. And she always sticks to her plan.

Future? A top-tier medical school.
Dad? Avoid him as much as possible (which isn't that hard considering he's a Congressman and he's never around).
Friends? Palmer, Bri, and Toby—pretty much the most awesome people on the planet, who needs anyone else?
Relationships? No one's worth more than three weeks.

So it's no surprise that Andie's got her summer all planned out too.

Until a political scandal costs Andie her summer pre-med internship, and lands both she and Dad back in the same house together for the first time in years. Suddenly she's doing things that aren't Andie at all—working as a dog walker, doing an epic scavenger hunt with her dad, and maybe, just maybe, letting the super cute Clark get closer than she expected. Palmer, Bri, and Toby tell her to embrace all the chaos, but can she really let go of her control?
My Thoughts:
My initial thoughts of this book were like yesss Morgan Matson queen of contemporary. I was not disappointed, this book was just another demonstration that Morgan Matson is indeed queen.
At first it was a rocky start and I found myself needing to take a break because it was sooo predictable. Throughout the book I was able to anticipate everything that was going to happen, but nevertheless once I got past that, I found myself loving the cuteness.
Andie was a bit of a boring character for me, but the relationship she had with the other characters pulled through. Though to be honest, Andie reminds me a lot of myself…
And we met Frank and Emily from Since You've Been Gone! I have noticed that Morgan Matson likes to include a mention of her others characters in her books.
Can we also talk about this cover? Gorgeous! I didn't think that anything could top since You've Been Gone in terms of summer feel and colors, but I think this one does. There's so much going on in the cover that I feel like it should be overwhelming, but it somehow isn't.
Another thing I loved was the relationship between Andie and her father, it was so sweet and genuine.
Verdict:
Adorable and totally summer/spring worthy!
My Rating:
4.5 stars
---
How about you!? Have you read this book? What did you think?