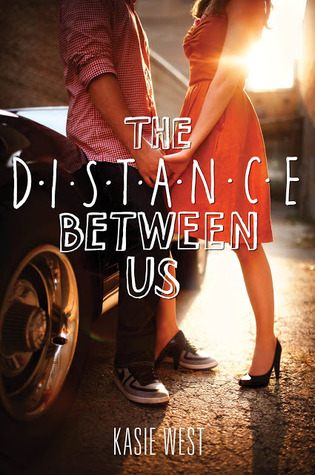 The Distance Between Us by Kasie West
Publisher: Harper Teen
Publication Date: July 2nd, 2013
Page Number: 320
Format Read: E-book (Live-brary Download)
---
Goodreads Synopsis:
Money can't buy a good first impression.

Seventeen-year-old Caymen Meyers learned early that the rich are not to be trusted. And after years of studying them from behind the cash register of her mom's porcelain-doll shop, she has seen nothing to prove otherwise. Enter Xander Spence—he's tall, handsome, and oozing rich. Despite his charming ways and the fact that he seems to be one of the first people who actually gets her, she's smart enough to know his interest won't last. Because if there's one thing she's learned from her mother's warnings, it's that the rich have a short attention span. But just when Xander's loyalty and attentiveness are about to convince Caymen that being rich isn't a character flaw, she finds out that money is a much bigger part of their relationship than she'd ever realized. With so many obstacles standing in their way, can she close the distance between them?
My Thoughts:
Finally! After disliking Kasie West's other books I've finally found one that I can say I loved!
I think it really was Caymen who won me over. As a person who is pretty sarcastic, I loved Caymen and her sarcasm. Easily my favorite character of all of Kasie West's books and one of the main characters in any book that I really could say I loved and related to. (Other than like Hermione Granger and a few others.
The romance was great though there was that usual oh girl thinks guy has a girl but in reality he doesn't. But I can forgive that.
The plot was also much better and the writing felt more believable. I wasn't scoffing at the romance and was actually interested in the story.
I mean the cover is pretty meh, looking pretty much the same as the other books and like the usual contemporary.
I found myself loving Xander and the mom too. There's a great mother daughter relationship here as well.
I'd say that there isn't much that separates this book from other contemporaries, and are there better books than this? Sure, but Caymen and her sarcasm is honestly one of the reasons that I'm giving this a super high rating.
Verdict:
The first contemporary of the year that I can say I loved!
My Rating:
5 stars
---
Have you read this book!? What are your thoughts!?