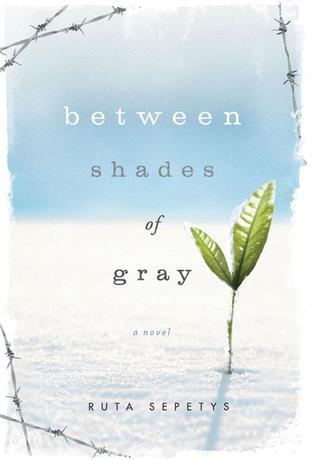 Between Shades of Gray by Ruta Sepetys
Publisher: Philomel Books
Publication Date: March 22nd, 2011
Page Number: 344
Format Read: Hardcover (School Library Borrowed)
---
Goodreads Synopsis:
Lina is just like any other fifteen-year-old Lithuanian girl in 1941. She paints, she draws, she gets crushes on boys. Until one night when Soviet officers barge into her home, tearing her family from the comfortable life they've known. Separated from her father, forced onto a crowded and dirty train car, Lina, her mother, and her young brother slowly make their way north, crossing the Arctic Circle, to a work camp in the coldest reaches of Siberia. Here they are forced, under Stalin's orders, to dig for beets and fight for their lives under the cruelest of conditions.

Lina finds solace in her art, meticulously–and at great risk–documenting events by drawing, hoping these messages will make their way to her father's prison camp to let him know they are still alive. It is a long and harrowing journey, spanning years and covering 6,500 miles, but it is through incredible strength, love, and hope that Lina ultimately survives. Between Shades of Gray is a novel that will steal your breath and capture your heart.
My Thoughts:
Yeah, wow, this book was written so beautifully and even made me tear up some. The main character Lina is so resilient and brave and her story was so moving.
I'm currently learning about the events that were inspired by this book in AP World History and I'm really glad I was able to read this book first to get a glimpse into what really went down during Stalin's rule.
After reading it, I was so horrified that I went to talk to my dad, who used to live in Soviet Ukraine and we had a serious conversation about Stalin and Russia during this time period.
My one complaint, (which in all honesty, is something I complain about with nearly every book) is that the ending was so bittersweet and we didn't even get to see the romance between Lina and Andrius in the end. Though I have to admit, it was concluded in such a bittersweet and creative way.
I grieved so much for and with Lina whenever tragedy struck her and her family. I sighed when a character suffered. Though this book is historical fiction, it could be like a diary, which is I'm sure what the author was going for.
I loved that we got to see that guard have a soft spot, and that Lina's mother was able to pull it out of him like that.
Lina is 15 years old, and so am I, and I wouldn't be able to survive what she did and her story is similar to countless girls, and just wow, props to them if they survived, and I grieve for those who didn't.
Verdict:
A brilliant historical book that will have you raging and grieving at the same time, amazing!
Rating:
4 out of 5 stars
---
What was that guards name!? Kretsky or something, I honestly can't remember and it was only two and a half weeks ago.
Please share your thoughts on anything I might have left out!
P.S. My mom saw that I was reading this on line at Universal and she saw the title and automatically asked if it was appropriate. Ugh, she obviously thought it was Fifty Shades of Gray and that bothers me a lot