So Deanna @ A Novel Glimpse tagged me to do the Dim Sum Book Tag, which is the brainchild of two very awesome book bloggers Joey @ Thoughts and Afterthoughts and Jenna @ Reading With Jenna!
Dim sum is a style of Chinese cuisine whereby food is served in small (tapas-like) portions and is common during yum cha (which literally means: drinking tea). This tag is inspired by good company and good eats.
Here are some rules to devour this tag:
Thank the blogger who nominated you, linking back to their site
Devour dim sum and answer the tag questions
Tag five others to join your round table for some dim sum fun
Food coma
(Also if I've tagged you to do this one, please link back to Joey and Jenna so they can make a list of everyone who has done this delicious tag!)
---
Tea: A book that started off hot but quickly turned cold
Daughter of Deep Silence by Carrie Ryan
I liked the first chapter and I was ready to be sucked into an amazing book but sadly that did not happen
---
Chiu Chow Dumpling: A book that features elements of land and sea
Definitely this book!
---
Rice Noodle Roll: A favorite multilayered character you've read (i.e. traits? skills? morally ambiguous?)
Kaz and basically the entire gang
---
Shrimp Dumpling: A book with a transparent blurb that gives the story away
The Sword of Summer by Rick Riordan
I was so confused as to why the blurb told the reader that Magnus dies. I mean, yes it happens fairly early on, and yes the story still obviously continues but why? It would have been a good shock and gasp moment to read about in the book with no knowledge beforehand.
---
Steamed BBQ Pork Buns: A book that is fluffy on the outside but packs a punch of flavor (e.g. message? depth? controversy?)
The Winner's Trilogy by Marie Rutkoski
Do not be fooled by the girl in a dress! There is actually a lot of politics and government in this trilogy which I found myself enjoying a lot more than I thought I would!
---
Chicken Feet: A book with divided opinions
Woah there are a lot, but I don't talk about this book nearly enough on my blog, so let's go with The Selection Series by Kiera Cass. You either love it or you hate it basically.
---
Lotus-Wrapped Sticky Rice:  A book you've received/given that was nicely packaged
I recently got two amazing box sets from my best friend for the holidays's and the package was so heavy and I squealed so hard!
---
Egg Custard Tart: A book that uses simple ingredients and clichés but executes it perfectly
I don't know how this trilogy does it, but even with having the most generic love triangle in the world, it's still awesome!
---
Mango Pudding with Evaporated Milk: Any book recommendation + beverage/snack that's a winning combination
Can I cheat a little and say Winter by Marissa Meyer and a red apple!?
---
Fried Sesame Balls: A book cover with embossed text/design you just love to run your fingers over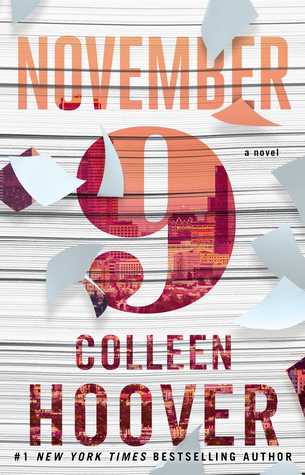 November 9 by Colleen Hoover! Those pages are raised and if I were to do the blindfolded book challenge and receive this book, I would guess it right away!
---
Dim Sum Steam Cart: The type of carrying bag you use to bring books around (take a picture!)
The blue bag is the one I drag everywhere with me. It has a permanent spot for a bottle of water and my tae kwon do belt, because god forbid if I forget my belt one day, the master will kill me.
And the purple backpack is my school bag, so I always have a book in there, (along with my various folders and binders)
---
I tag:
Stefanie @ yourdaughtersbookshelf
Kiwi @ Kiwi Reads
Sam @ River Moose Reads
Poulami @ Daydreaming Books
Cassidy @ The Little Book Cottage
---
And that is all! I realize that I got tagged in November to do this, so oops, there are just soooo many awesome tags out there 😉
Also I am being a tad rebellious by posting this during my creative writing class because we're in the computer lab but the assignment isn't due until tomorrow end of the period so I figured that I'd procrastinate and either finish it at home or tomorrow. (Oh no, already breaking them New Years Resolutions)