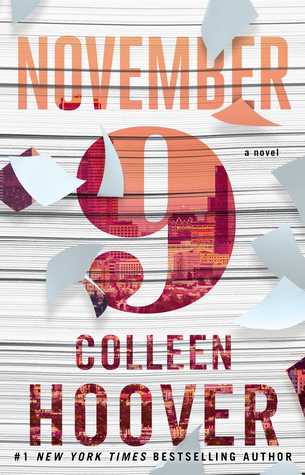 I finished November 9 on November 29, but by then i had already written my November Wrap Up and didn't feel like changing it, plus i knew that the review would go up in December, so i'm counting it as a December book 😉
Also, once again the feels hit me, and so now it's time for Calliope's twitter fangirling:
Yeah…
November 9 by Colleen Hoover
Publisher: Atria Books
Publication Date: November 10th, 2015
Number of Pages: 320
Format Read: Paperback (Bought)
Goodreads Synopsis:
Beloved #1 New York Times bestselling author Colleen Hoover returns with an unforgettable love story between a writer and his unexpected muse.

Fallon meets Ben, an aspiring novelist, the day before her scheduled cross-country move. Their untimely attraction leads them to spend Fallon's last day in L.A. together, and her eventful life becomes the creative inspiration Ben has always sought for his novel. Over time and amidst the various relationships and tribulations of their own separate lives, they continue to meet on the same date every year. Until one day Fallon becomes unsure if Ben has been telling her the truth or fabricating a perfect reality for the sake of the ultimate plot twist.
My Thoughts:
Colleen Hoover has such a beautiful writing style and her books make me tear up so.
I've read nearly all of her books, with the exception  of Never Never and Hopeless (which I've been saying that I would read for nearly half a year now)
The relationship between Fallon and Ben was amazing and when Fallon didn't give Ben a chance to explain. Ugh.
The fact that Fallon was all like 'i don't believe in insta love' Excuse me missy, what was that with you and Ben!?
Spoiler Section:
So nearly all of Colleen's books have that tragic car accident, and when it happened, i was like noooooooo!
And then i thought that was that. But then Ben and Fallon healed from that, and i knew something else would happen. And when it did, oh dear.
I can't believe they went a year without talking! Like no texting, no nothing!
That would have drove me insane if i was either Fallon or Ben.
I loved how we got to see Ben's side of the restaurant scene, from his point of view.
It makes me wonder why Colleen chose November 9th specifically.
I loved how we got to see Miles and Tate, as you can see from my tweets i recognized Ian right away. (though i'm surprised that i did because i'm very slow to connect things in books)
The moment Fallon connected that Ben was going out with his dead brother's wife, i did too, and i gasped out loud.
Ugh. But i can see why Ben would do that. Fallon just left him like that.
My favorite chapters have to be the beginning ones when Ben and Fallon first meet, and then at the end during the Ben POV restaurant scene.
The fact that Fallon loves books makes me happy, and how there are references to bookish things all over. Like the last few lines of the book, with the spoiler and stuff, was gold!
I loved that Fallon was a virgin, i think in her 20's? It's refreshing to see a protagonist who hasn't lost her virginity as a teenager. (not that it's a bad thing, but it's not always realistic)
Verdict:
A highly entertaining book with a gripping plot line that will have you smiling at once page, and in tears at the next.
An extremely frustrating romance that will make you want to bang your head somewhere. I loved it!
Rating:
5 out of 5 stars!
---
I read this book in one day. Sunday night of last week. It was a wild night.
I kept popping into the rooms of my mom and brother to yell at them what just happened in the book. Then i ranted to twitter, and then my best friend, who i texted cause she's a book lover too.
Hmm, how would i rank this with the other ones? On par with Ugly Love i think. Full of romance and angst and stuff.
So that is all!
Tell me your thoughts! Is Colleen Hoover a hit author for you? Or a miss? Because i feel like CoHo has some mixed reviews. Did you love this book too? How would you rank it compared to CoHo's other books!? 
Let's discuss in the comments! I don't bite 😉