Hi there! So Charley @ Books and Bakes has tagged me to do The Autumn Book Tag and The Fall Time Cosy Book Tag!
Since they're both autumnal, i figured i'd just do what Charley did, and combine both tags into one autumn book tag post.
---
The Autumn Book Tag
1. What is your favorite thing about Autumn?
I love the temperature. It's not too cold, yet not too hot, and unlike Spring there are no allergies. I can also wear sweaters without heavy winter jackets covering them up.
2. What book reminds you of your school days?
Well, they're still ongoing! But i guess Harry Potter, or, let's change it up a bit, I'd Tell You I Love You, But Then I'd Have To Kill You, is one also, ooh, or maybe Anna and the French Kiss.
3. What book cover reminds you of Autumn?
That'll be the book i just reviewed, My Life Next Door by Huntley Fitzpatrick, you can click on the title to see the review! I guess the color scheme, with the orange and yellow reminds me of Autumn.
4. What is your favorite horror or Halloween story?
I actually dislike horror because i'm a big wimp, so i don't generally read that genre.
5. What is your favourite horror or Halloween film?
Oh, i love Halloween Town, it's one of my favorites, or maybe Hocus Pocus. They're both my childhood favorites.
6. What Fall book release are you most looking forward to?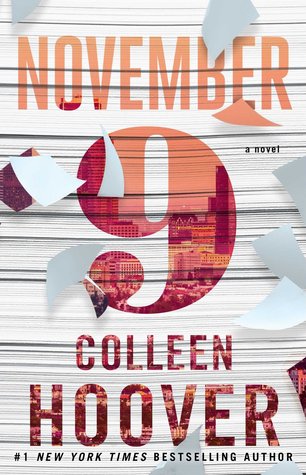 I say Winter a lot, so i'm going to go with November 9 by Colleen Hoover.
7. What Autumn movie release are you most anticipating? 
Unfortunately, i'm not a big movie person, so i don't have an answer…wait a second!!!!!!!!! I know!!!!
Mockingjay Part 2 of course!!!
8. What are three books you plan to read this Autumn?
Good question! Check out my Fall TBR! Otherwise, i'm going with The Archived by V.E. Schwab, Mara Dyer, and The School of Good and Evil. (Watch, i'm not going to end up reading any of these)
---
Fall Time Cosy Book Tag
1: Crunching Leaves: The world is full of color. Choose a book that has reds, oranges and yellows on the cover.
My Mockingjay book! Don't ask how i managed to get the UK version, 😉
2: Cosy Sweater: It's finally cold enough to don warm cosy clothing. What book gives you the warm fuzzies?
Can i say Harry Potter? No?
I guess then i'll go with Anna and the French Kiss by Stephanie Perkins, or any Morgan Matson book really
3: Fall Storm: The wind is howling and the rain is pounding. Choose your favourite book OR genre that you like to read on a stormy day.
Ooh, My True Love Gave To Me by Stephanie Perkins and Co., or just any contemporary book that gives me a calm feeling
4: Cool Crisp Air: What's the coolest character you'd want to trade places with?
I agree with Charley on this one! Hermione all the way. Also though, Isabelle Lightwood, cause she's badass
5: Hot Apple Cider: What under hyped book do you want to see become the next biggest, hottest thing?
Well, when i was 10 or 11, i absolutely loved this trilogy called the Mysterious Benedict Society, but it's been out for a while now, so i don't think this trilogy could become the next big thing. I also loved this book called Esperanza Rising…
6: Coat, Scarves and Mittens: The weather has turned cold and it's time to cover up. What's the most embarrassing book cover you own that you like to keep hidden in public?
Sometimes, that's the way i feel with the Vampire Academy and Bloodlines covers. 😉
7: Pumpkin Spice: What's your favorite fall time comfort food/foods?
Yum, a food question! I love dessert! love chocolate, and hot chocolate, and marshmallows, and cookies, and pumpkin and apple pie this time of season. Did i mention i love desserts!?
Speaking of desserts, my brother just made the yummiest oatmeal cookies, and they're so warm and fresh out of the oven and i'm eating them while typing this up! 😉
---
Get tagged! I tag you all to be cosy with me and get into the autumn spirit. 
I tag:
Joey @ Thoughts and Afterthoughts
Nicola @ Rust and Stardust
Cassidy @ The Little Book Cottage
Sumaya @ Sue's Reading Corner
Ashley @ Socially Awkward Bookworm
Giselle @ Hardwork Boulevard
Josie @ Josie the Bookworm
Anjie @ Love thy Shelf
Lara @ Katniss Potter Book Lover
Aentee @ Read at Midnight
If you don't want to, or don't have the time to do this tag, no worries 😉
---
Thanks so much for reading! My Shopaholic book review will be up hopefully on Friday!
I'd love to know what books get you into the fall spirit 😉
P.S. I took the PSAT today! (A test that you take to practice for the SAT) The math part was sooo hard.
P.P.S. I started The Archived! Yay, my first V.E. Schwab book- it's really good so far- My current thoughts are that it would make a great movie! There are many movie type scenes.
P.P.P.S. Guess what i'm being for Halloween!!!!??????