Hello there, today i'm doing the TBR Tag!
Thanks so much to the lovely Arianna @ The Daydreaming Bookworm for tagging me!
Let's just get right into it!
---
How do you keep track of your TBR pile?
Well i have one of these:
I don't know how clearly you can see that, but that's one of those post it notes that you can add to your computer, and so whenever i hear about a book i need to read, i just add it the list.
I also have one of these:
It's an Epic Reads book wheel. There are basically 365 titles on here so whenever i need something to read, i just skim the wheel to find something that sounds good.
---
Is your TBR mostly print or ebook?
While i love reading physical books, sometimes it's just an inconvenience to go to the library, so i've been reading a lot more ebooks recently. But in answer to the question, mostly print.
---
How do you determine which book from your TBR to read next?
That's a good question! I don't know the answer myself. Mood i guess? Whatever's available in the library or on Live-Brary too
---
A book that's been on your TBR the longest?
Um…maybe the Pigman by Paul Zindel? I don't really know…
---
A book you recently added to your TBR?
The Beginning of Everything by Robyn Schneider. I read Robyn's other book, Extraordinary Means, so i added this one to the list right after.
---
A book on your TBR strictly because of its beautiful cover?
The Winner's Curse and The Luxe for sure. The dresses are just so pretty!
---
A book on your TBR that you never plan on reading?
The Night Circus by Erin Morgenstern. I was going to read it for Booksplosion, but i never got the chance
---
An unpublished book on your TBR that you're excited for?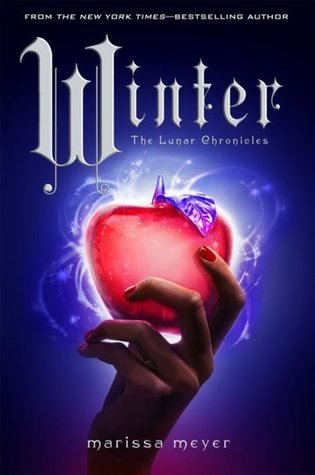 I don't put unpublished books on my TBR, that's a whole separate post it, if there are a lot. Usually, i can keep track in my head though which books come out when. But i will say Winter by Marissa Meyer.
---
A book on your TBR that everyone has read but you?
I'm usually someone who reads what everyone else is reading, but i haven't yet read a V.E. Schwab book 😦
---
A book on your TBR that everyone recommends to you?
Mistborn. I have not yet read Branden Sanderson either.
---
A book on your TBR that you're dying to read?
Simon and something…. (It's Simon vs. The Homo Sapiens Agenda by Becky Albertalli genius) Oh…sorry!
---
How many books are on your Goodreads TBR shelf?
Well, i don't have a goodreads, but i have about 300 on the color wheel and 70 on the post its
---
I tag:
Maria @ Marwhal Reads
Jesse @ Books at Dawn
Anjie @ Love thy Shelf
Kimsiang @ The Spines Breaker
And if i missed anyone who really wants to do this tag, just either leave a comment, or if you're too shy, email me! And i'll add your name to the list.
---
Ok, that's all for today, leave a comment letting me know all about your TBR as well!
Thanks so much for reading!